Internet Protocol Television (IPTV) is the delivery of television content over Internet Protocol(IP) networks. Actually everything is simple on the subscriber side, you just need to open your Set Top Box and watch your Television. If it does not work properly, you can complain to the QoS and ask for support. On the other hand, things are not so simple for the backend guys who maintain the IPTV service.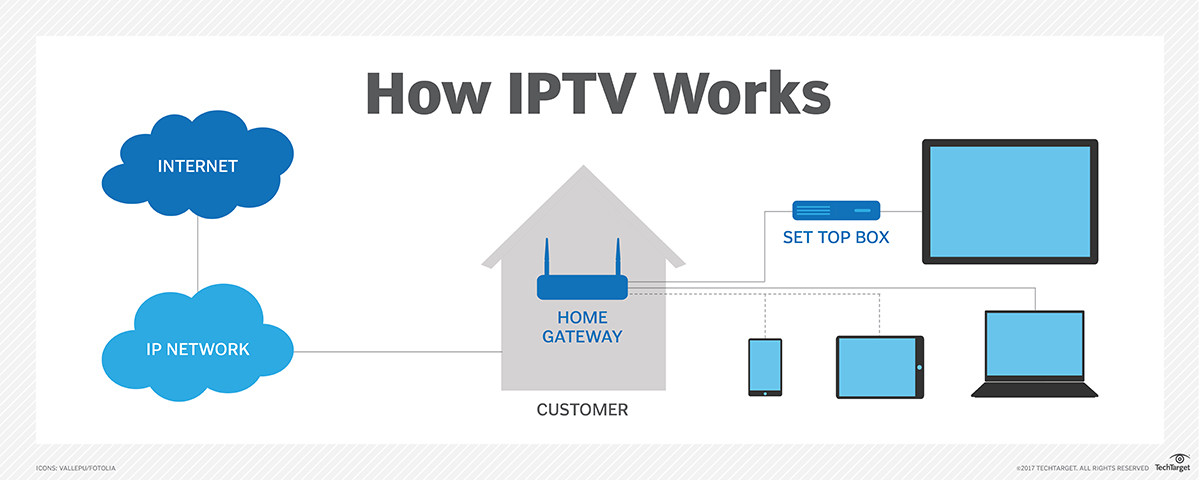 In order to have an IPTV service, IPTV engineers may need to fetch streams from a remote URL and re-stream to subscribers. And that's the point where Ant Media Server can take place, with the recent developments, Ant Media Server can restream any remote RTSP, RTMP, and HLS streams. In other words, you can fetch any IPTV, IP Camera stream from an URL and restream to your subscribers.
What is IPTV Ministra TV (Stalker Portal) Platform ?
Ministra TV (Stalker Portal) platform is a free IPTV middleware platform for MAG STB (Set Top Box) devices. You can download and install Ministra TV Platform for free. In order to download the Ministra TV (Stalker Portal) Platform, you need to fill out the form on Infomir's web site. After you download the IPTV platform, here are the instructions for installation. By the way, Ant Media Server is compatible with Ministra TV 5.4.1 version which should be installed on Ubuntu 16.04.
Import Live/VoD streams to Ministra TV Platform
Ministra TV (Stalker Portal) platform is a middleware that just forward requests to an origin server so that a media server should take place to provide origin streams. Even if you can import each Live/VoD stream to IPTV Platform, there is a simple way in doing it. Let us tell you how to do that step by step.
Get the MySQL database host address, username, and password, in order to access the database of Ministra TV Platform(Stalker Portal). You specify these values while installing the Ministra TV Platform.
Go to the /usr/local/antmedia directory.

cd /usr/local/antmedia

Go to the app directory.For instance, if you plan to import Live/VoD streams in "LiveApp" application, go to webapps/LiveApp directory.

cd webapps/LiveApp

Edit the properties file in WEB-INF directory with your text editor. The important properties we need to set are settings.stalkerDBServer, settings.stalkerDBUsername, settings.stalkerDBPassword.

sudo nano WEB-INF/red5-web.properties

# assign the values to properties

# database host address to settings.stalkerDBServer,

# database user name to settings.stalkerDBUsername,

# database user password to settings.stalkerDBPassword

# save and close the file

Restart the Ant Media Server

sudo service antmedia restart

Go to the web panel of Ant Media Server with your internet browser. After that, open the settings of "LiveApp" which you already set the properties in the previous step. You should see buttons for "Import Live Streams" and "Import VoD streams" on the Ministra TV Platform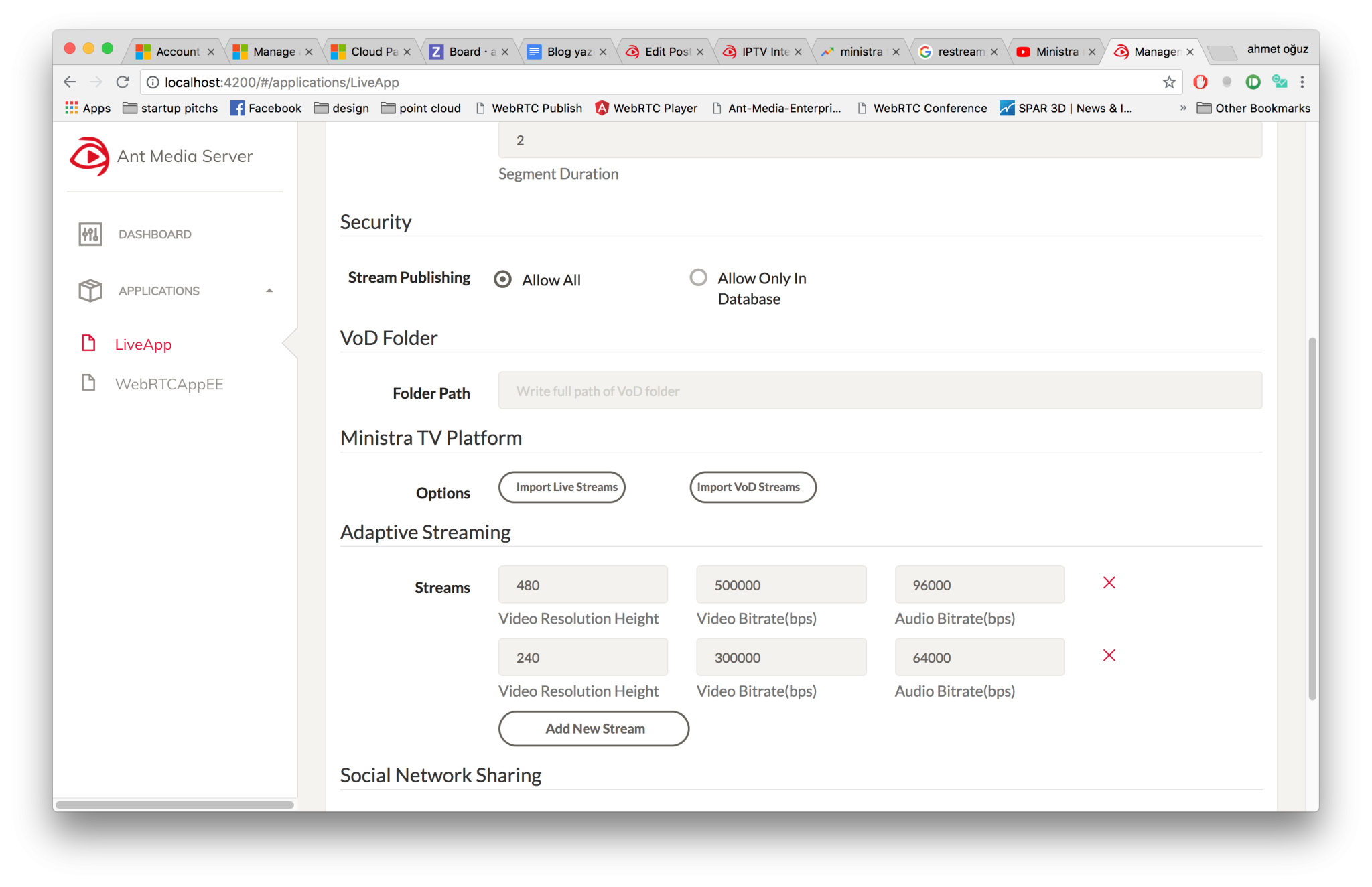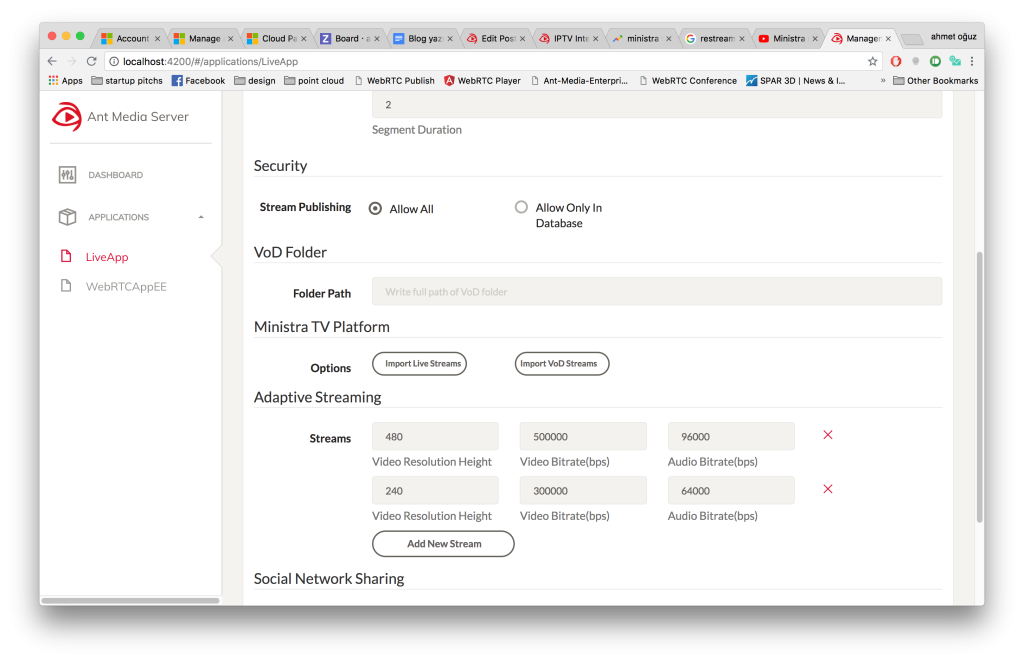 Just click "Import Live Streams" or "Import VoD Streams" to import streams on Ant Media Server to Ministra IPTV (Stalker Portal) platform. That's all. Keep in mind that it clears the list in Ministra TV and imports streams. If you have some other streams in Ministra TV, please back up them first.
 Go to the web interface of Ministra TV Platform in order to check that Live/VoD streams are added. If everything is OK, your subscribers can watch the streams on Ant Media Server with their MAG Set Top Boxes.
Conclusion
As a result, Ant Media Server can take place fetching and streaming in an IPTV service. We hope this blog post will be useful for someone working on the technical side of IPTV Service.
Please keep in touch if you have anything to ask. In addition, you may send an e-mail to contact@antmedia.io.