In this post, we will tell the advantages of Ant Media Server over an SFU (Selective Forwarding Unit). Actually Ant Media Server supports SFU mode but it is much more than an SFU.  First of all, Let us tell what SFU is. Later, we will tell why you should prefer Ant Media Server among other alternatives.
What is SFU (
Selective Forwarding Unit

)?

SFU stands for Selective Forwarding Unit.

At times, SFU is used to describe a type of video routing device, while at other times it will be used to indicate the support of routing technology and not a specific device.

An SFU is capable of receiving multiple media streams and then decide which of these media streams should be sent to which participants. 

You can check our related post about other multiparty WebRTC architectures.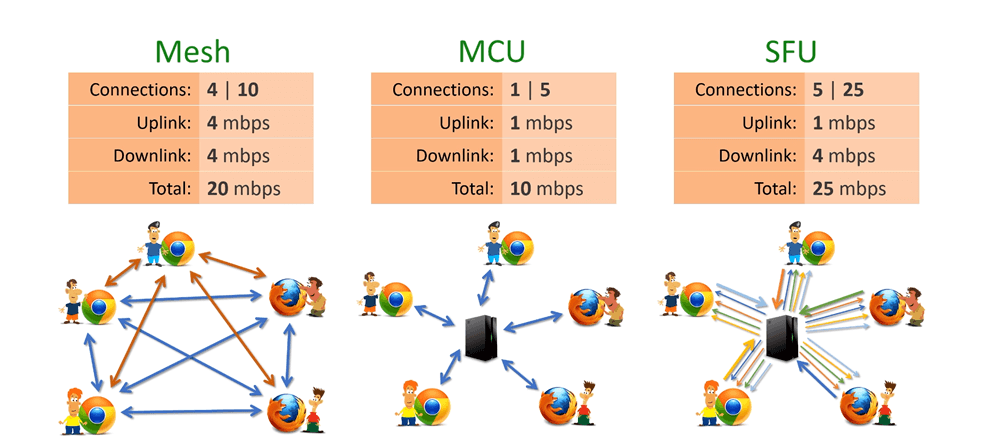 SFU is the most popular and cost-efficient architecture today for multiparty video with WebRTC. At the same time, all participants send their video to a single entity (usually in multiple resolutions/bitrates), and that single entity decides (selectively) how to route the incoming video to all the participants.
Advantages of Ant Media Server over SFU
1- Adaptive Bitrate Streaming
Ant Media Server supports both SFU and Adaptive Bitrate Streaming. It means if there is no adaptive bitrate settings, then SFU mode is active automatically and Ant Media Server forwards to incoming stream to the viewers.
When the viewer connection is good, the viewer gets a high-quality, high-bitrate stream, but if connection speed drops, the server will send a lower-bitrate stream to ensure a continuous media stream.
This kind of service generally costs much and Ant Media Server provides cost-effective solutions.
2 – RTMP to WebRTC & HLS & RTMP Streaming
Ant Media Server can ingest RTMP stream and convert it to WebRTC & HLS & RTMP Streaming.
RTMP protocol is still one of the most used protocols in the video streaming industry. Ant Media Server supports RTMP and WebRTC for publishing and WebRTC, HLS and RTMP protocols for playing.
3 – WebRTC Simulcast to Social Media
Ant Media Server supports publishing to Facebook, Periscope and Youtube simultaneously.
You can add Facebook, Periscope and Youtube pages to Ant Media Server with just one click. Ant Media Server can publish Live Stream(WebRTC, RTMP)  to Youtube, Facebook and Periscope simultaneously. You can watch related video tutorial from here.
4 – Auto Scaling & Cluster
Ant Media Server supports auto-scaling & cluster structure.
Streams can auto-scale as well in the cluster in Ant Media Server.  The origin server can stream to edge servers in the cluster and edge servers can stream to clients. 
One of the important points is that Ant Media Server translates the incoming WebRTC or RTMP stream to multi-bitrate in Origin Server and stream multi-bitrate to edge servers so that WebRTC players receive the best quality according to their network speed.
5 – Available both Cloud and On-Premise
Ant Media Server can run on-cloud or on-premise. So that you can have your own low latency media service on your own cloud.
AMS Enterprise Edition customers can access support E-mail, On-site, Instant Messaging.
Ant Media Server has also Custom Licence, Support & Development. With this Custom plan, Ant Media determine the needs of the customers and provide solutions according to them. In this way, Ant Media provides cost-effective solutions with special solutions to customers.
If you have any question, contact us from the web site. I hope this tutorial has been useful to you.
Also, Join the Ant Media community and be a part of the Ant Media Server!
References
WebRTC Multiparty Video Alternatives, and Why SFU is the Winning Model