Much has been said about the usefulness of video streaming in healthcare, with proponents claiming that it can help to improve communication between patients and providers. There are many potential benefits to be gained from video streaming in telehealth or telemedicine technologies, including increased access to care, improved coordination of care, enhanced patient engagement, and even empowered surgeons. 
Rods&Cones, a leading healthcare company providing remote access to the OR with advanced technology, chose to work with Ant Media to support their digital remote assistance platform. 💯 We interviewed Jan Dheedene, CGO & co-founder of Rods&Cones, and he explains Rods&Cones's journey and also how they decided to start working with Ant Media.
Please give us a brief background about Rods&Cones
Jan: We founded Rods&Cones back in 2019. With the opening of international offices in Europe, the USA, and the Philippines, Rods&Cones is now a fast-growing scale-up company that has become a leader in the healthcare industry for remote access service in the OR, in record time.
Rods&Cones' mission is to empower surgeons, medical device specialists, and other experts to work together remotely with the use of advanced technology. While our purpose is driven by the strong belief to be a catalyst of change in the healthcare industry to improve people's lives across the globe. Our company provides remote assistance for medical environments all over the world.
Using smart surgery glasses and a digital remote assistance platform, users can connect safely with surgeons, product specialists, or other medical professionals anywhere in the world, in real-time. 
As a result, Rods&Cones' clients have better patient outcomes because of the collaborative and time-efficient on-demand digital solution.
What was the problem you were facing and trying to solve?
Jan: We integrated Ant Media into our software platform to relay the video feeds from the Operating Room to a large audience while taking into consideration all privacy restrictions to cope with healthcare constraints.
This way we are able to preserve excellent quality, adapt to end device screen size and network constraints and ensure low latency supporting efficient conversations with some members of the audience.
Why did you choose Ant Media Server?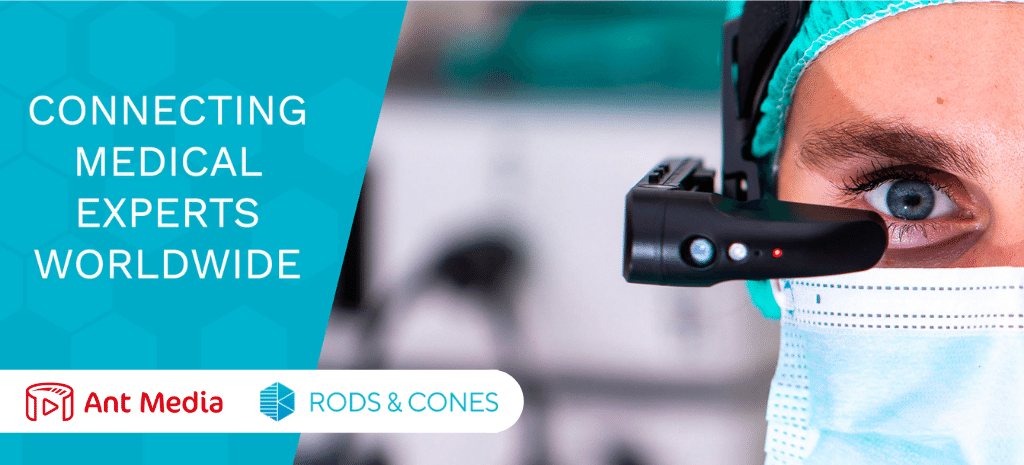 Jan: Using AntMedia open source could have been an alternative in other industries but at Rods&Cones, we take security, reliability, and quality very seriously.
We also appreciated the support of the team for an AKS deployment. Rods&Cones is making use of Azure to cope with security and privacy constraints.
How have you benefited from using Ant Media Server?

Jan: We push the usage of the Ant Media server to its maximum and we appreciate the support from AntMedia experts to solve our challenges when they appear, especially edge cases considering unstable connectivity. We hope it will continue as it is.
What are your aspirations moving forward?
Jan: At Rods&Cones, we plan to deploy Ant Media in more and more regions to reduce the latency for local sessions. We count on the Ant Media team to work with us as we scale geographically, the same way we have been working together today.
If today AntMedia is only used for some specific use cases where it is necessary to relay to a large audience, we eventually plan to use it for all use cases, being then a core part of the Rods&Cones platform.
Be a part of Ant Media 
There are several solutions out there for video streaming, and Ant Media provides the best of the breed when it comes to support services, and the extended technology it brings. Ant Media is dedicated to providing both off-the-shelf and customized solutions to make sure its clients will get the right technology infrastructure they need from a modern video streaming platform.
To learn further applications of Ant Media and partners you can check our Next Education, Antargyan, and Leap Gaming case studies.