The last weekend of July was an unforgettable showcase of brilliance and ingenuity as Ant Media Inc. hosted the third thrilling Real-Time Streaming Hackathon.
This exciting event brought together a diverse and talented group of developers, all driven by their passion to use real-time streaming technology to tackle real-world challenges.
The result?
An impressive array of cutting-edge projects that left everyone amazed.
The Judges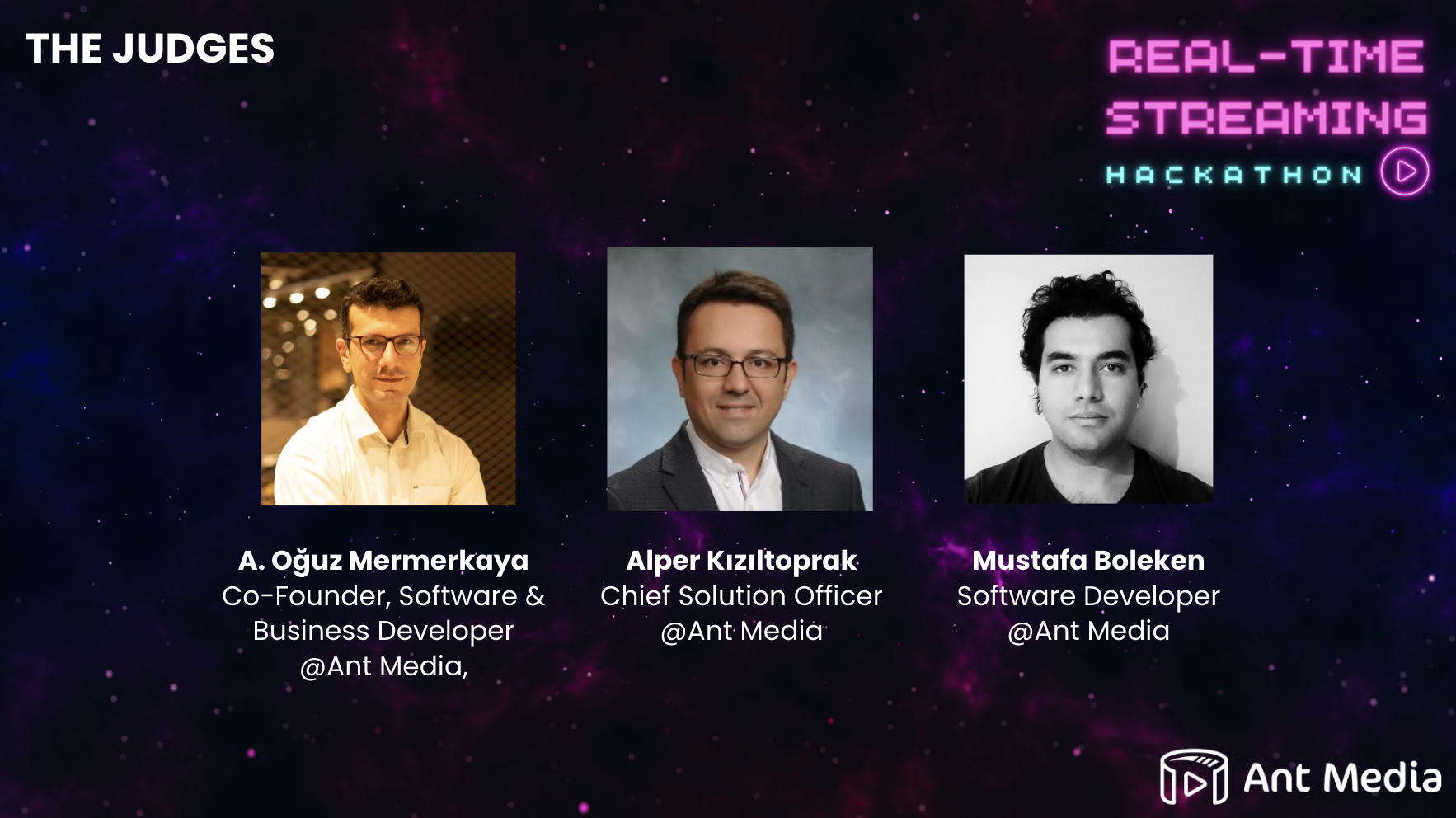 A big thank you to our judges. Your time, expertise, and guidance made this event a success. We appreciate your contribution to real-time streaming innovation.
Real-Time Streaming Hackers!

From visionary surveillance solutions to interactive video experiences, the participants of this hackathon redefined the possibilities of streaming technology.
In this exhilarating recap, we dive into the remarkable achievements of the winners, unveiling a world of innovative potential to revolutionize various sectors and enhance quality of life.
🥇 1st Place: Team AGR HUB – CamOS by Tan Do
Team AGR HUB wowed everyone with their project CamOS.
It's not just any surveillance camera app; it's a game-changer for businesses wanting private cloud camera solutions. CamOS stores data from new cameras securely in the cloud, making it easy to access.
The app is user-friendly, allowing effortless management of cameras, even across different locations. The integration with various cameras and recorders meeting the ONVIF connection standard brings unparalleled cost efficiency.
Congratulations, Team AGR HUB, on your well-deserved 1st place victory!
🥈 2nd Place: Balazs Jantek – HTML Overlays by Balázs Jantek
Balázs Jantek impressed the judges with HTML Overlays, an innovative way to stream videos interactively.
By adding dynamic content to live videos, the possibilities for engaging experiences are endless.
Congratulations, Balázs Jantek, for securing the well-deserved 2nd place!
🥉 3rd Place: Team Rixel – Remote Trader by Richárd Ádám and Axel Ország-Krisz
Team Rixel's Remote Trader project stood out with its exceptional streaming app for stock and crypto exchange data.
Traders can make better decisions using real-time insights, thanks to the app's smart bots.
Kudos to Team Rixel for their stellar 3rd-place achievement!
🏅 Jury Special Award: WordPress Plugin for Ant Media Server by Rahul Kumar
Rahul's WordPress Plugin for Ant Media Server simplifies streaming on WordPress websites making it effortless to connect with audiences.
Congratulations, Rahul Kumar, on receiving the prestigious Jury Special Award!
And let's not forget Team Oodles, who mesmerized everyone with their project named, Virtuosica – an innovative video streaming platform that connects music artists with their audience.
It's a game-changer for the music industry and will bring live music experiences to fans worldwide.
It is just a beginning of the journey
Looking ahead, Ant Media Inc. is excited to announce another hackathon in Q4 this year. We believe in the power of collaboration to create positive changes in the world.
Participants and winners of the hackathon will have the opportunity to list their solutions on Ant Media's marketplace, allowing them to monetize their efforts and engage in co-marketing activities.
At Ant Media, we see our participants and winners as friends, and we truly believe in growing together.
The Mission
Let's be the "WordPress of streaming" together. Spending time with you inspires us to empower creators and innovators to make a significant impact in the world of real-time streaming.
We encourage everyone to join our hackathon to seize the marketplace opportunities and become part of our growing family. Together, let's innovate, collaborate, and create a better future!
Congratulations again to all the winners and participants for their fantastic contributions to the Real-Time Streaming Hackathon and most importantly to the world.
Your projects have pushed boundaries, and we're eager to see more groundbreaking achievements in the next hackathon and beyond!
Together, we're democratizing the future of real-time streaming tech and making a difference in the world. Keep up the great work and keep inspiring us all!
And Finally
All the applications and plugins we just mentioned will be available to purchase on the Ant Media's marketplace from the 9th of August.
Stay tuned for more exciting news and kindly follow us on Linkedin.
See you around my friends!
What Next?
Explore the our Github repositories and reference guides on popular SDKs, the documentation or join the community discussions to learn more about the Ant Media Server and demos of Ant Media Server are available on the website.
Deployment options include 1-click apps on popular cloud marketplaces such as AWS, Microsoft Azure, Digital Ocean and Google cloud.
A free trial is available to try out the Enterprise Edition of the product and support packages are available for both editions if you need some extra help getting started.