Dear Ant Media Community,
Throughout this post, I'll discuss Ant Media Developer Program, Ant Media Certification Program, and Ant Media Cohort Program (For University Students Only).
First, thank you for being a part of the Ant Media community and for your continued support.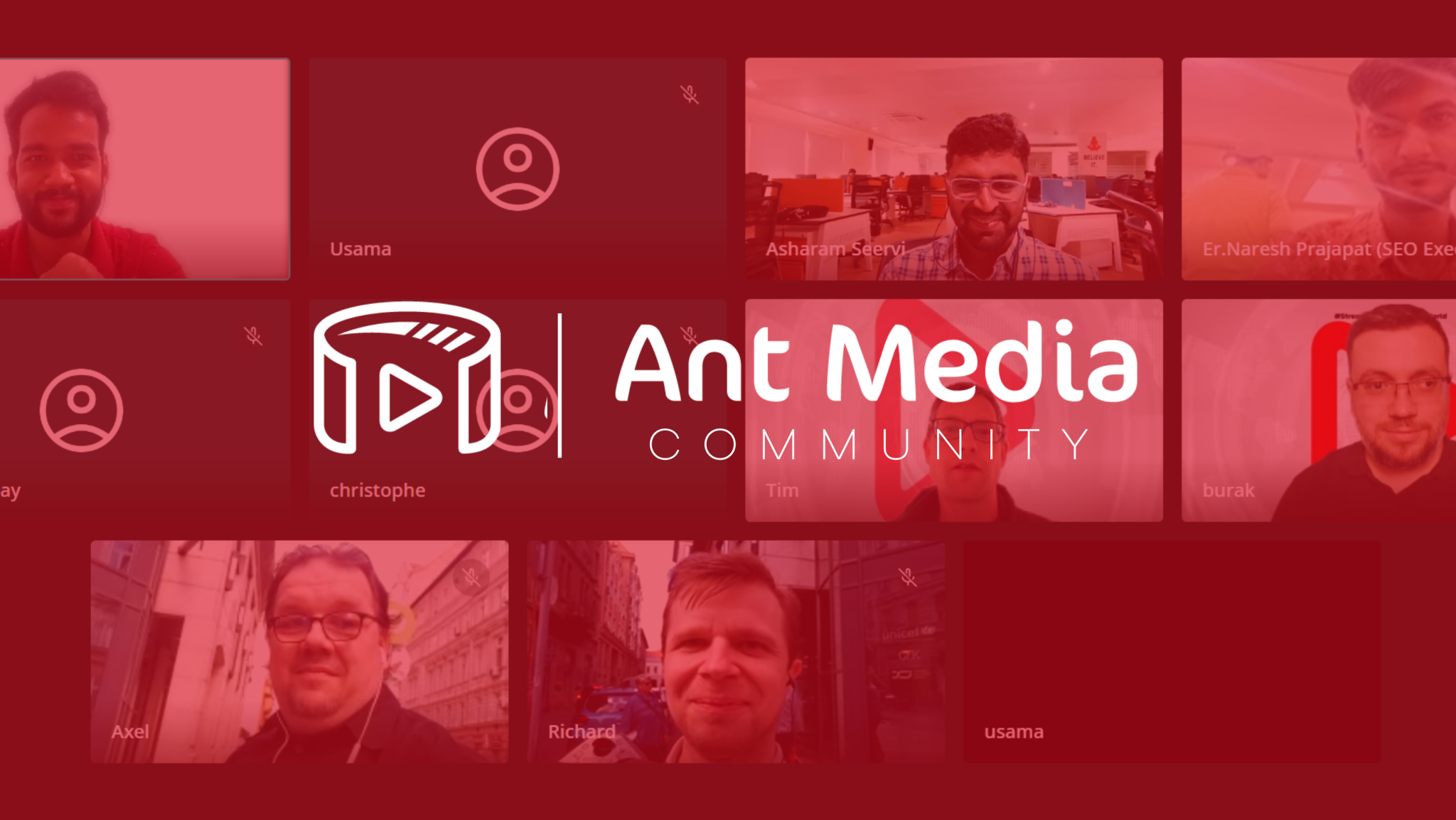 Open-source and Community
With Ant Media Server being an open-source product, we are fostering community everywhere possible. Today, I want to discuss building a solid open-source community and how it may be valuable for you to get involved with our mission: #StreamingEngineOfTheWorld.
Introduction to Ant Media Server
First, let me briefly introduce Ant Media Server, a.k.a. AMS. It is an open-source media server that allows you to stream live and on-demand video.
Ant Media Server is an open-source, scalable, and ultra-low-latency live streaming platform that provides real-time streaming services for WebRTC publishing and playback, RTMP and HLS, and DASH playback. AMS supports the recording and playback of live streams with adaptive bitrate streaming as well as numerous protocols, video encoding/decoding technologies, codecs, and containers (such as H.264, VP8, MPEG-DASH, and MP4).
Ant Media Server uses Java and other open-source technologies such as FFmpeg, WebRTC, and NGINX. It can be deployed on-premises or on cloud platforms like AWS, Azure, and Google Cloud.
AMS is used by enterprises, including Micro, Small, and Medium Enterprises, broadcasters, and individuals worldwide, to deliver high-quality video content to their audiences at a scale.
This achievement would not have been possible without your continuous support. Our sincere gratitude goes out to all the contributors who made it possible. And, We encourage our community members and new contributors to get involved and help us improve and expand coverage with different platforms and technologies.
Get Involved with Ant Media Server
Here is a simple question, how can you get involved with Ant Media Server? Well, there are many ways to contribute. First, you can start with downloading, exploring, and testing Ant Media Server at your local personal computer/server or cloud instance with 1-click apps.
Here are some ways you can contribute depending on your skills and interests:
Raising Issue:
Please let us know if you encounter any bugs or issues while using Ant Media Server. Reporting bugs helps us to identify and fix issues quickly. You may report bugs or raise feature requests at GitHub issues. Also, please engage and allow us to close issues that we've already resolved or are in stale mode by letting us know.
Contribute code
If you have programming skills, we welcome your contributions to the Ant Media Server codebase. Whether fixing a bug, adding a new feature, or improving existing functionality, your contributions can make a big difference. You can find information on how to contribute code on our GitHub page. There are other repositories worth checking out at our GitHub organization if you're unfamiliar with Java.
Help with documentation
Documentation is essential to get started, and our documentation is generally helping our community to learn in-depth about streaming. If you have experience with technical writing or are simply good at explaining things, we would love your help improving our documentation. You can find information on how to contribute to our documentation on our GitHub page.
Spread the word
If you are passionate about Ant Media Server and believe in our mission, please help us spread the word. Tell your friends, colleagues, and anyone who might be interested in what we do. Share our social media posts and blog articles. You can write blog posts over different channels or create videos on youtube about our offerings and tutorials. Every little bit helps!
So, why should you get involved with our project? For beginners, contributing to an open-source project is a great way to give back to the community. It's a chance to refine your skills and expertise to help others and make a real difference in the world.
Perks for being a contributor
But there are other perks as well. Contributing to Ant Media will be rewarding for you; as a contributor to Ant Media Server, you can earn certifications demonstrating your skills and expertise. These certifications can help you stand out in a competitive job market and open up new opportunities for career growth.
In addition, we can support you with cash rewards if you're making a significant difference with your contribution.
Contributing to an open-source project is a great way to build your network and connect with other professionals in your field. You'll have the chance to collaborate with other contributors, learn new skills, and build lasting relationships that can benefit you throughout your career.
And don't worry if you're new to open-source development. We welcome contributors of all skill levels and are happy to help you get started. We have a friendly and supportive community that is always willing to answer questions and provide guidance, and BTW, I'm your one-stop point of contact. 🙂
Giving Back to the Community
We believe in giving back, and here our initiatives are in favor of the community:
Community Hours
We dedicate our time to chat with our community members. If you haven't joined yet, I welcome you to join us every Thursday, grab a Coffee and chat about _(whatever your wish)_ !! Yes, That's true!
We encourage you to come along with jokes, Q&A, Collaboration, and more. And, the best part of Community Hours is, "You are the pilot"! And, it's your chance to face-time with the Ant Media Community and the Team behind Streaming Engine of the World.
Join us every Thursday at 12:00 PM GMT (30-45 Minutes) at https://meet.antmedia.io/Conference/CommunityHours (ps: Chat room is only active in mentioned hours).
Real-time Streaming Hackathon
Ant Media encourages innovation throughout the streaming industry with this hackathon. We've hosted two successful hackathons so far, the first in November 2022 and the second on 1st April 2023. We host a hackathon each quarter and are looking forward to your involvement in the next hackathon in July 2023.
Ant Media Developer Program (For Professionals/Freelancers)
It is a bounty program, designed to support and resolve open issues and customization requests for Ant Media Server. You'll be able to unlock new mastery, gain experience through a wide range of use-cases to use streaming media platforms, and add some impressive experience working with AMS to your portfolio, and that too, with the reward for your work delivered.
If you are a developer, do join us: https://docs.google.com/forms/d/1SQSUpz6pqsQQJ7nuKDUvzUeqNNIoe1bbDXYrtKOoCcU/viewform
Ant Media Certification Program
We aim to validate and promote innovation throughout the streaming industry by upskilling streaming enthusiasts and offering them recognization through Ant Media Certification Program.
Ant Media Cohort Program (60 Days Internship for University Students)
If you're University Student and willing to learn more about streaming while contributing. We'll help you to get started.
The program offers university students a chance to gain experience in the streaming industry through real-world projects. As an intern, you'll work with experienced innovators and learn from them. You'll receive rewards and a certificate of completion upon finishing the program. If you're a university student kickstarting your career in the streaming industry, we encourage you to apply for our 60 Days summer internship program. You may apply here: https://docs.google.com/forms/d/e/1FAIpQLSeRkeMsrgolr1MEsnK9F3xjk1Hf6Qt9UXaDM0g0aenuZhjXEw/viewform
Stay tuned for more updates and information about these programs shortly, via LinkedIn.
Conclusion
In conclusion, Ant Media Server has the potential to make a real difference in the world, and with your help, we can continue to improve and expand our platform.
Ant Media Server is the result of the combined work of over 2,600 individual developers, industry partners, and our core team at Ant Media. With over 4.2 million npm downloads per week and 3200+ GitHub stars, Ant Media Server is one of the most popular Streaming Engine for building live streaming servers.
Thank you for your continued support and for joining our community. We look forward to seeing what we can achieve together!
Ant Media is committed to fostering a community of passionate contributors about making a difference in the world. So, if you're interested in joining our Ant Media universe, we encourage you to join today! Join the community on GitHub Discussions, Reddit, Slack, and Discord.
We welcome you to join us and help improve Ant Media Server. See you at Community Hours.
Best regards,
Asharam Seervi
Community Lead at Ant Media