It was a stammering year that started with a lot of hope. In 2021, miraculously effective vaccines showed up, mental resilience became our #1 priority, big enterprises have gone fully and permanently remote, and as usual, the streaming media business boomed.
Thankfully, while Covid-19 has become mainstream, resilience was everywhere. As everyone remembers – the mantra of 2020 after all, was, "things will never be the same." The work continues. The world emerged from the worst of the pandemic (so to say) to a point where we learned to strive together. We still recognize the best in one another.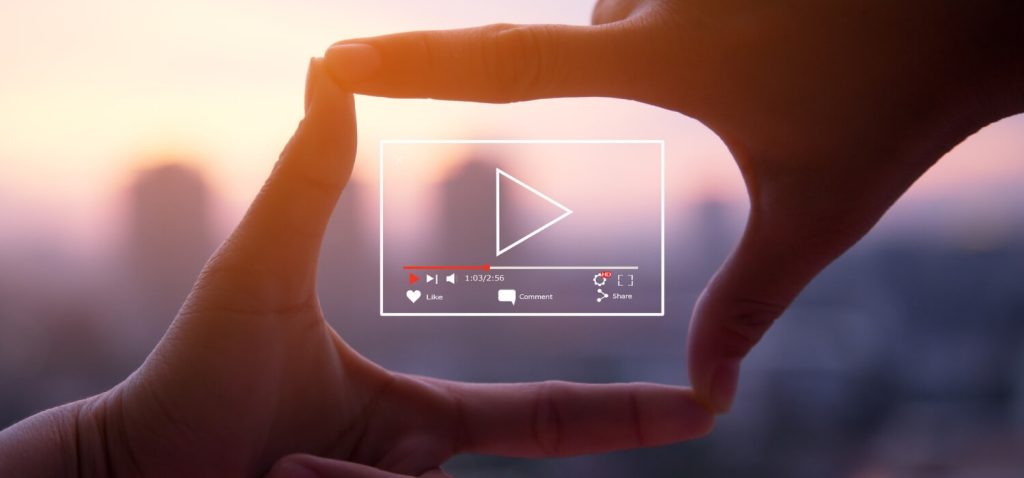 At Ant Media, our employees were in constant communication with customers ensuring that all customers can cope with the current, hard situation. Since Ant Media has been remote from day 1, it hasn't been tough for us to cope with difficulties for the last 2 years.
Despite a volatile year, our strategy and values in Ant Media haven't changed. Our customer-obsessed thinking has been a paramount interest in our DNAs. We continued to expand our footprints globally and 7 more people have joined Ant Media.
Some of the highlights in 2021 include:
More than 6000 Ant Media servers are now running in 129 countries. The number of instances has been increased by twofold this year alone.
End users have consumed 2 billion minutes of streaming every month – a stunning 70% bump YoY!
The number of active customers has surpassed 1100. This resulted in a 2.2X increase in revenues compared to 2020 alone.
G2 recognized us as the "High Performer Streaming Company" of Winter (2022), Fall, and Summer 2021, with incredible comments and rankings (9.7/10).

Here are some of our users' G2 reviews:

"Ant Media is great product for building large-scale streaming services"  -Artem H, CEO

"Finally a media server that can scale and support todays platform needs." -Chandika J, CEO

Ant Media is recognized by Media & Entertainment Tech Outlook as one of the Top Live Streaming Solution Providers 2021.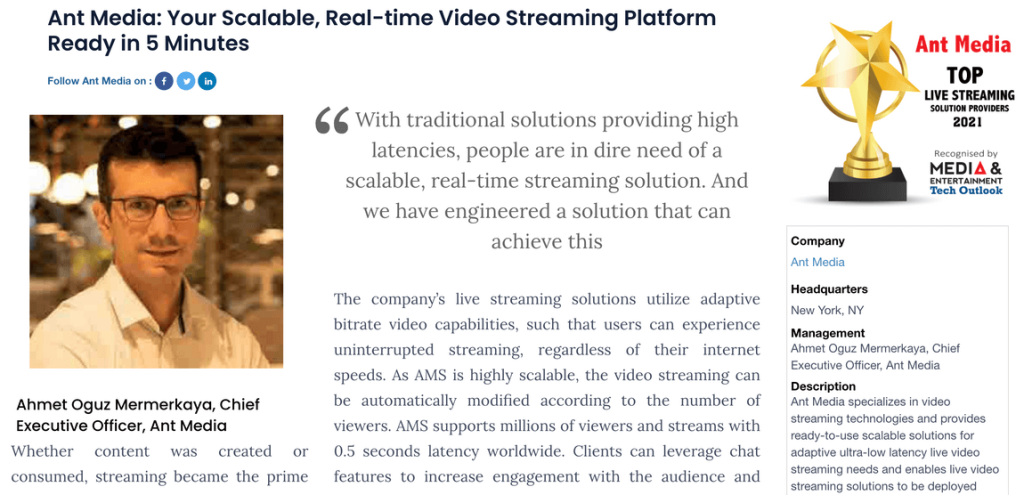 Our partnership has expanded – now Ant Media partners with many global hosting providers, including Azure, AWS, Alibaba, Digital Ocean, OVH, and Linode. Additionally, our solution partners have increased by twofold, to 17.
Ant Media in 2021: a year in review
We worked hard every day to meet the needs of the live streaming world. 2021 was pretty busy for us (and we loved it!). Here are some of the improvements and features we made in 2021.
WebRTC streaming to 150K online users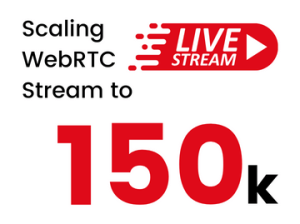 The ultimate DIY streaming platform, the Ant Media Server, can deliver a sub 0.5-second latency auto-scalable and real-time WebRTC experience to a six-figure audience for minimal cost.
In this guide, you can learn about how to scale up to 150K viewers with WebRTC in Auto Scalable Real-time Streaming with Ant Media Server." 
Ant Media Server supports AWS Wavelength

AWS Wavelength is an inspiring technology provided by Amazon to applications that require ultra-low latency on the network and we will explain in this blog post how Ant Media Server should be configured in the AWS Wavelength zone to achieve milliseconds latency. As you all know, Ant Media Server is a highly scalable ultra-low latency WebRTC Server which provides sub-second latency normally and the latency can be decreased under 150 milliseconds with the conditions provided within AWS Wavelength. 
Unlock Amazing MCU: merge and mix streams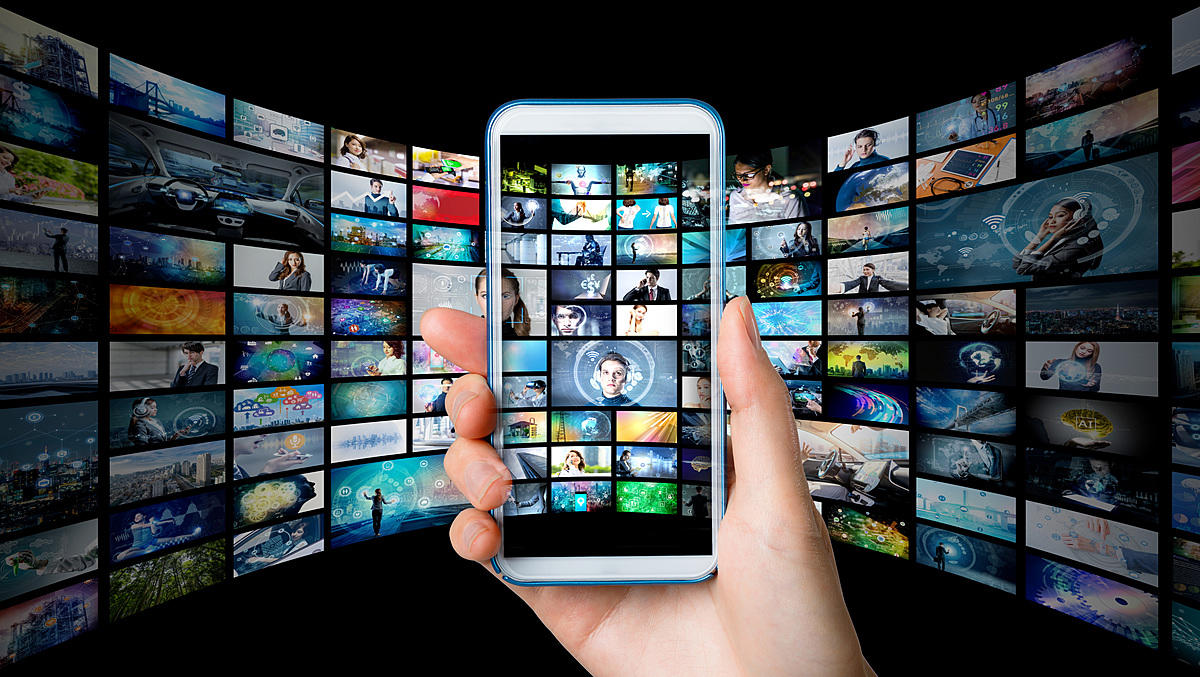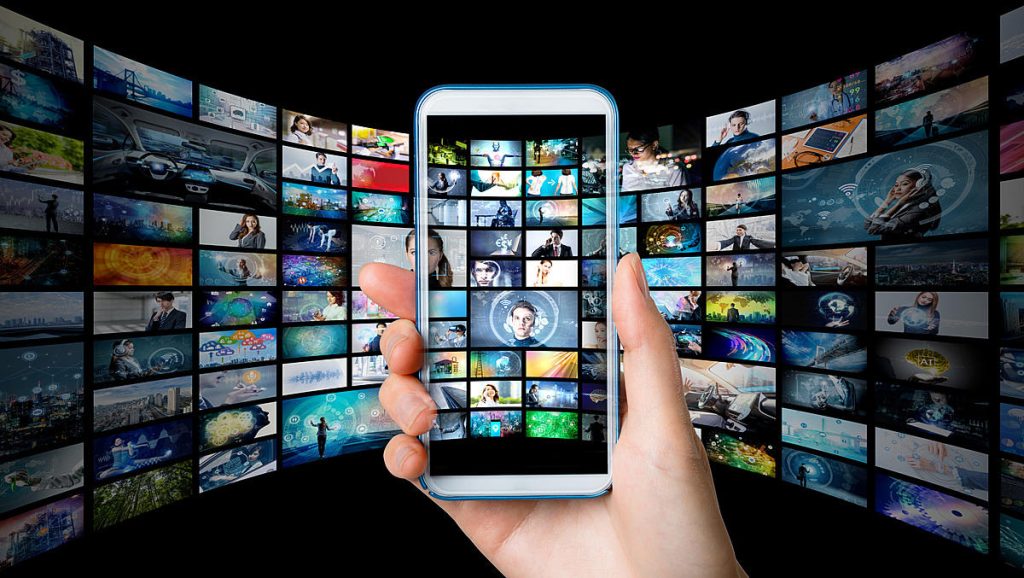 MCU stands for Multipoint Conferencing Unit. It also defines the process of mixing multiple video/audio streams into one stream on a streaming server. Ant Media Server has had the MCU feature since the v2.4.0 version. Actually, as a different conference feature, the SFU Conference is already available in Ant Media Server. In the SFU Conference, you can publish your stream and play the other people's streams in the conference room separately. Therefore, it is hard to record or re-stream them to the other endpoints.
Eventually, with the MCU feature, you can get a single stream in which all streams in the room are mixed. Let's define that single stream as Mixed Broadcast. So you can easily record the Mixed Broadcast or re-stream it to social media or any other RTMP endpoint. The Mixed Broadcast is adaptive and responsive. This way, when someone joins the room or leaves the room, it is updated and aligned automatically.
Impressive WebRTC multitrack playback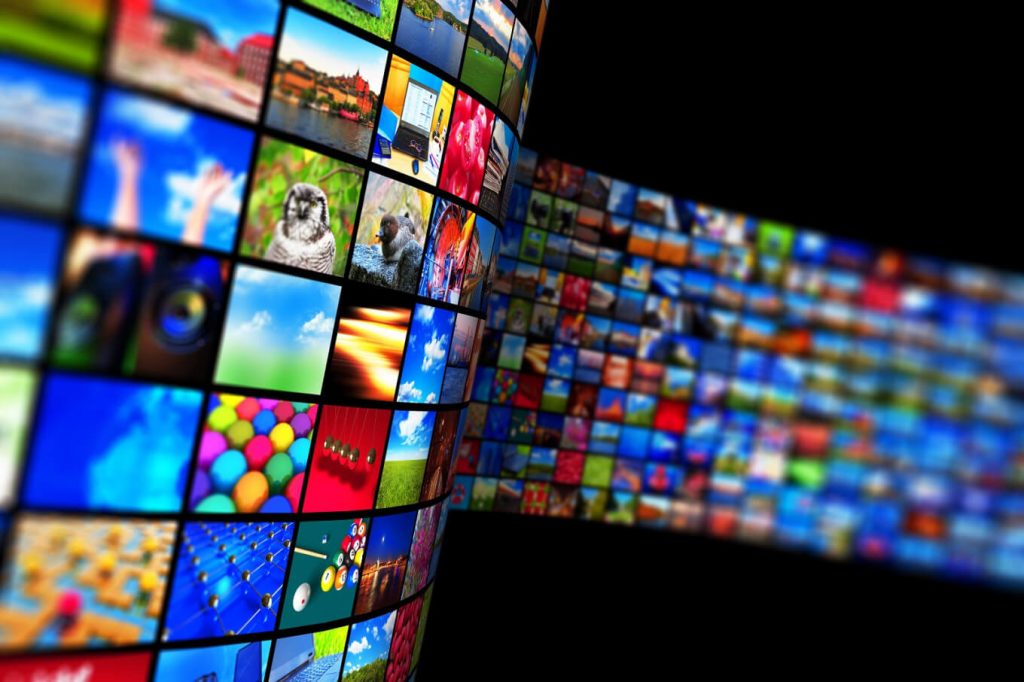 WebRTC lets us stream multiple video/audio tracks through a single connection. Ant Media Server is supporting to play multiple broadcasts as tracks of a WebRTC stream. These broadcasts may be even WebRTC or RTMP streams.
With the help of the multitrack streams, you can play different groups of streams with a single broadcast ID. This way, you can start playing those groups of streams with one play request – and maybe most importantly, through a single WebRTC connection. This means a considerable decrease in resource usage.
In this documentation, we depicted how you can use the multi-track playing feature in Ant Media Server and also its advantages and possible use cases.
Towards an extensible platform with plugins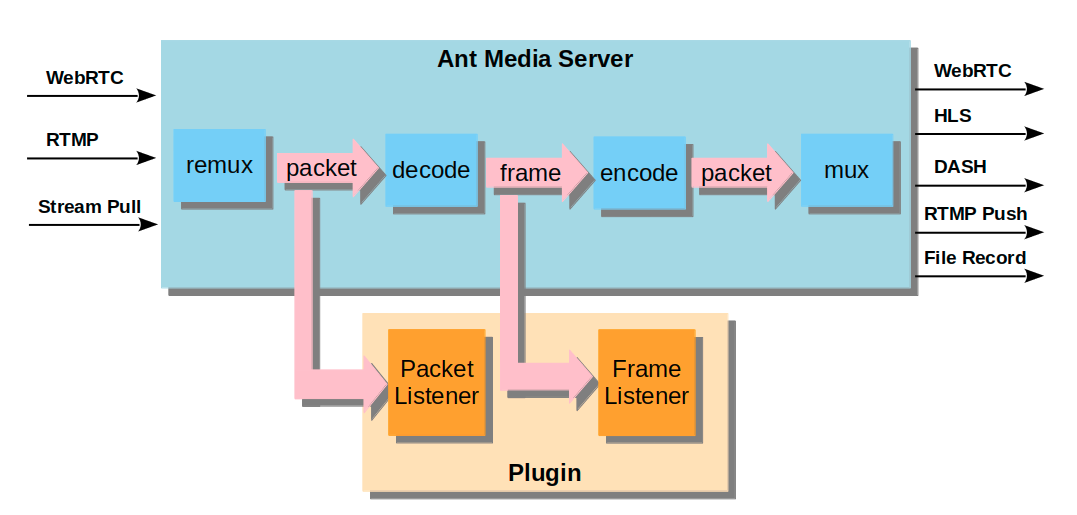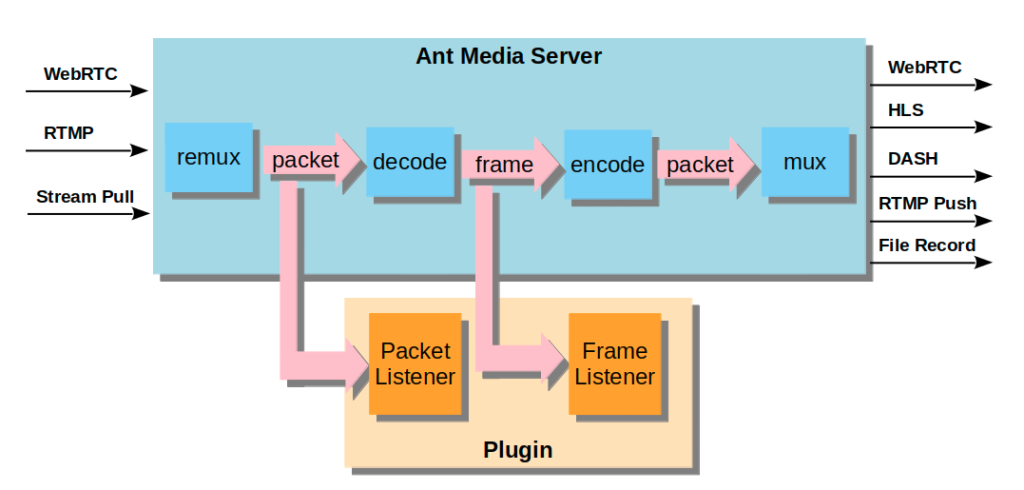 Ant Media Server (AMS) users are mostly people from Product Engineering teams, IT departments, and most of them are also software developers. Hence, we have received lots of requests for a powerful, flexible plugin mechanism. For the last 6 months, we have been working on plugin support that lets AMS users integrate their extensions with AMS. Now, it is available for mass consumption!
You can learn how to create a plugin from scratch here. We would love to hear the community coming up with creative ideas – let us know if you start or build one, and we'll support you throughout your journey!
Audio/video manipulation with Filter Plugin
Ant Media Server has support with a built-in Filter Plugin since v2.4.0.2. This plugin lets you build real-time audio/video manipulation on the server-side. The main application of the filtering plugin is the MCU which you can merge video/audio into a single stream for a conference room.
In this blog post, we explain how to build your own plugin together with other possible use-cases.
React Native application support

Rn-antmedia is a library to connect React Native apps to the Ant Media Server. If you have a React Native application, this is the ultimate solution you will enjoy to connect your applications to Ant Media Server. It was developed by one of our community members, Vitor. You can find the details in this blog post. 
Other notable improvements include, but not limited to:
Multi-level cluster for online video platforms: This is a great solution if you are providing streaming service to your users distributed all across the world. It addresses one of the requirements of online video platforms: you are now able to run a multi-continent cluster and deliver quality service to your users. Your clusters can be physically anywhere, e.g 300 instances in Americas,  200 instances in Europe, and 250 instances in Asia. All your streams will be in synch and distributed efficiently among clusters.
CMAF in cluster mode for online video platforms: In v2.3.0, Ant Media Server supports CMAF at scale. That means, if you locate Ant Media Server instances in your edge points, it'll distribute CMAF chunks accordingly. In this scenario, the typical latency is about 3-5 seconds. It has great potential for online video platforms to decrease the latency of HTTP Delivery.
WebRTC data delivery without video & audio: Another data channel-related feature is that letting users deliver only data through WebRTC without sending video and audio.

 

Cluster mode for multi-tenancy: Ant Media Server supports application deployment on the fly in cluster mode as well. This feature actually resolves the multi-tenancy problem for online video platforms. The correct method for creating the application is using the REST method of the web panel.
2022: The way forward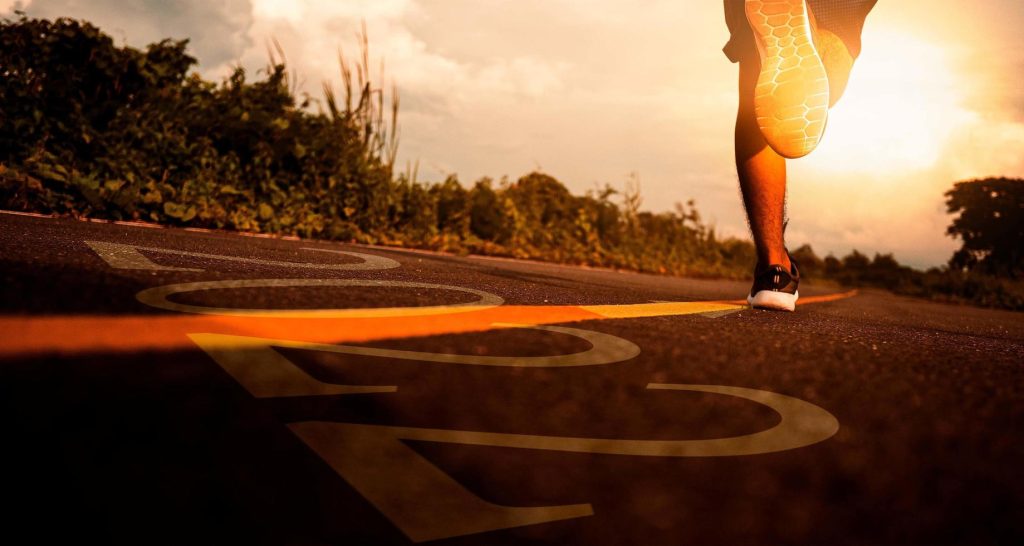 Now, it's time to start paving a pathway through 2022. We put your money where our mouth is, and we will deliver a lot of new features & services throughout the next year, including but not limited to:
Building a full-featured, white-label conferencing platform where you can host your own conference solution using Ant Media.
Delivering the best developer experience with our SDKs, providing state-of-the-art documentation and templates for fast kick-off.
An open, caring community environment where developers, users, and community members can ask their questions, contribute to Ant Media open-source platform, and gain reputation.
We recognize that Ant Media couldn't succeed without you, customers, contributors, and the open-source community. You have inspired us to be forthcoming, and build the world's best open-source streaming server with a focus on quality, consistency, and robustness.
We are very excited to innovate in this space going forward.
Thank you for your trust and being with us, and stay safe!