Ant Media provides ready-to-use, highly scalable real-time video streaming solutions for live video streaming needs. Based on customer requirements and preferences, it enables a live video streaming solution to be deployed easily and quickly on-premise or on public cloud networks such as AWS, Azure, Digital Ocean, Linode, and Alibaba Cloud.
Ant Media Server is a video streaming platform that provides highly scalable, Ultra-Low Latency (WebRTC) and Low Latency (CMAF & HLS) video streaming solutions supported with quality-of-life management utilities.
Ant Media Server is an incredibly flexible solution in terms of the deployment options you have. Wherever you can install Ubuntu, you can most likely also install Ant Media Server. However, having such a wide range of options can actually make the choice more difficult to make. The use case of your project is the primary factor in choosing the best deployment option for you. Today we would like to go over some of the options and help you determine the optimal choice for your streaming project.
Option 1 – Cloud Marketplaces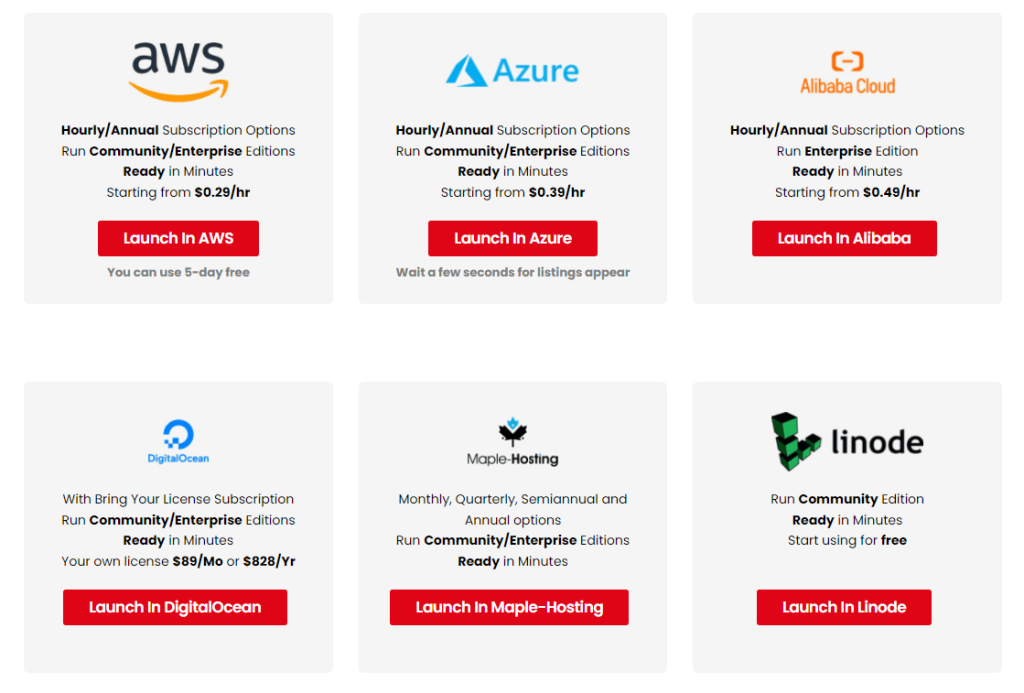 On the opposite end of the spectrum, deploying your streaming platform on cloud marketplaces offers you an incredible amount of flexibility. Ant Media Server is available on many platforms such as AWS, Azure, and Alibaba Cloud so you can continue working with your existing cloud provider to deploy your streaming platform.
With the auto-scaling feature of the Ant Media Server, you don't need to worry about estimating your traffic requirements. This allows you to set a baseline and a maximum target for your instance count. Beyond that, Ant Media Server handles the scaling for your streaming platform. 
When they are needed, instances are spun up from a master image to increase the load capacity of your cluster and when the need disappears, the cluster scales back down to its baseline to optimize the server costs of your streaming platform.
With a Pay-as-you-Go model, this option is great for streaming platforms that need to adapt to a wide range of traffic conditions. This type of deployment hits a balance between the flexibility of a SaaS model and the cost-effectiveness of the Ant Media Server.
You can check out our marketplace listings to learn more about how you can get started with an autoscaling streaming platform built with the proven scalability of Ant Media Server.
Option 2 – On-Premise Deployment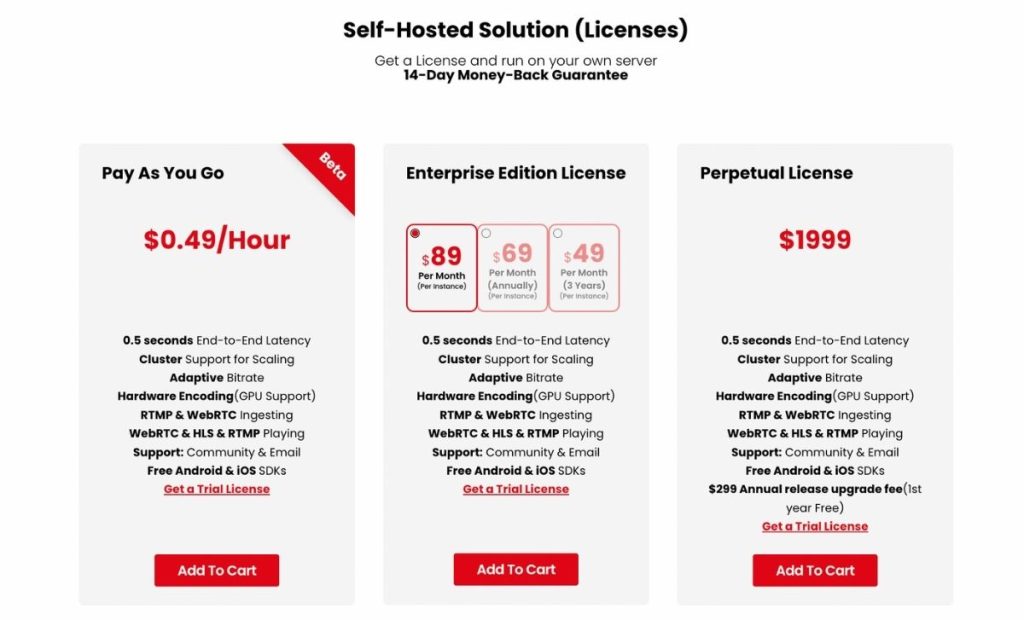 One of the key differences between using a SaaS product for your streaming platform and using Ant Media Server is the ability to deploy your platform on-premise. This type of deployment can have many benefits regarding privacy and security. 
Working with enterprise customers brings extra requirements for data security and how the data is handled. With Ant Media Server you can deploy your streaming platform on your own infrastructure within your own network. This type of deployment is very important for sectors such as banking, broadcasting, and governmental projects.
Another benefit of an on-premise deployment is the ability to utilize existing infrastructure to cut down on the server costs you may incur. If you are planning to have a stable amount of traffic or just get started with an existing server and scale-up, later on, the on-premise deployment option may be the best choice for you.
This type of deployment allows you to estimate your broadcast and viewer numbers beforehand and tailor the size of your streaming cluster to your needs. If you can estimate your needs with accuracy, this option usually offers you the most cost-effective deployment. 
On the other hand, this means you are giving up a small amount of flexibility for very substantial cost savings. While this may not be ideal for every project, you can still increase your number of instances to support even more users. Take a look at our cost calculator to estimate the number of instances you need.
Option 3 – Hosting Partners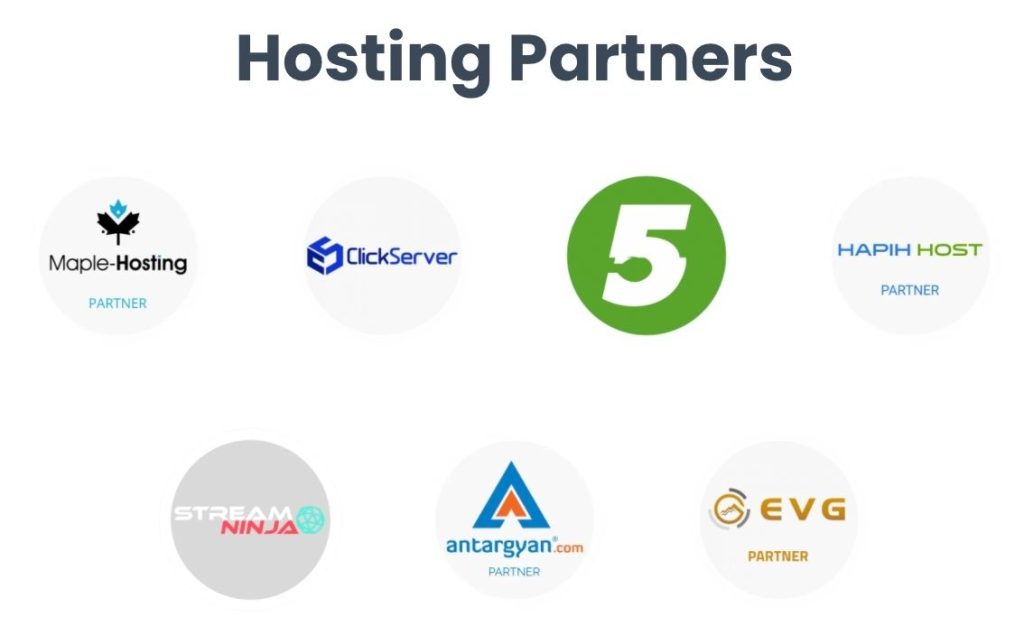 Another option for Ant Media Server deployment is to join forces with our hosting partners. You can leverage the cost-effective nature of an on-premise deployment with the flexibility of a cloud provider. Choose from our continuously growing list of Hosting Partners to deploy your Ant Media Server cluster and enjoy the benefits of both worlds.
You can still add more instances to your streaming cluster in a matter of minutes yet pay incredibly competitive rates per hour using our Monthly, Annual or Extended licenses. This provides a great opportunity for startups that are looking to grow in the near future but don't need the level of flexibility that working with a cloud marketplace brings.
Working with a known partner that is local to your primary market has many advantages in terms of the service and support you can expect. 
Having an actual person to talk to who is also in close contact with the developers of Ant Media Server can be a great choice for your streaming project. This is why we can wholeheartedly recommend working with a hosting provider that works with Ant Media very closely with whom you can form a solid partnership.
We are proud to work with our Hosting Partners to bring you a reliable and efficient solution for your streaming project. Take a look at our partner list to choose the best hosting provider for your real-time streaming platform.
Additionally, we can provide you with a list of regional and preferred partners with which you can work together to host your Ant Media streaming platform. Contact us to learn more about how you can get started working with our partners.
Whatever your streaming needs are, Ant Media provides you with a complete solution that 1250+ paying customers already trust.